Effect on gut health - study with HP 300
Study adds weight to healthy feed claims. Piglets have a healthier gut and gain more in weight when they are weaned on feed supplemented with HP 300 from HAMLET PROTEIN. A study, conducted at CCL Research, the Netherlands, has compared the effect of our nutritious soy protein with that of standard soy bean meal on piglet growth and well-being.
Protein strengthens piglet growth
Pig farmers who choose piglet feed containing HP 300 can expect a smoother weaning phase with reduced susceptibility to E. coli bacteria, improved feed intake and increased body weight gain, according to this study. That means healthier animals and higher profits on the bottom line.

Conducted by CCL Research in The Netherlands, the study compared the effect on piglets fed a wheat-barley-corn diet supplemented with HP 300 or conventional soy bean meal. On day six and seven of the 14-day study, the piglets were challenged with E. coli K88 – a common bacteria in pigs and a frequent cause of diarrhea and piglet mortality.

Significant weight gain
Overall, the average weight gain of the piglets fed HP 300 was 28% higher than that of the group on the diet supplemented with soy bean meal, while feed intake increased just 14%. A substantial improvement in feed utilization was found.

"At this improved growth rate, piglets can be expected to reach a target weight of 30kg/66 lb in 72 days – around five days faster than the average for conventional feed," says Lars Sangill Andersen, Nutritionist at HAMLET PROTEIN.

In addition, the improved feed efficiency and lower age on reaching 30kg/66 lb gives a feed saving of around 3.5kg/7.72 lb feed per piglet.

High E. coli resistance
Faecal samples taken at regular intervals during the study period showed consistently lower faecal shedding of E. coli in the piglets on the HP 300-supplemented diet.

Lars Sangill Andersen puts the finding down to the composition of HP 300, which contains none of the natural soy sugars that promote E. coli growth in the gut.

"The low faecal shedding of E. coli is the direct explanation for the increased weight gain," he comments.

"This shows the piglets were able to recover from stress more quickly – a significant benefit that saves labour, time and costs for the farmer."
Source: Feeding Trial Report, FT300P47GB, HAMLET PROTEIN
Swine Events
We share our knowledge at conferences and seminars around the world. See where to find us next and who you can meet.
You can also find presentations, videos and other material from previous events.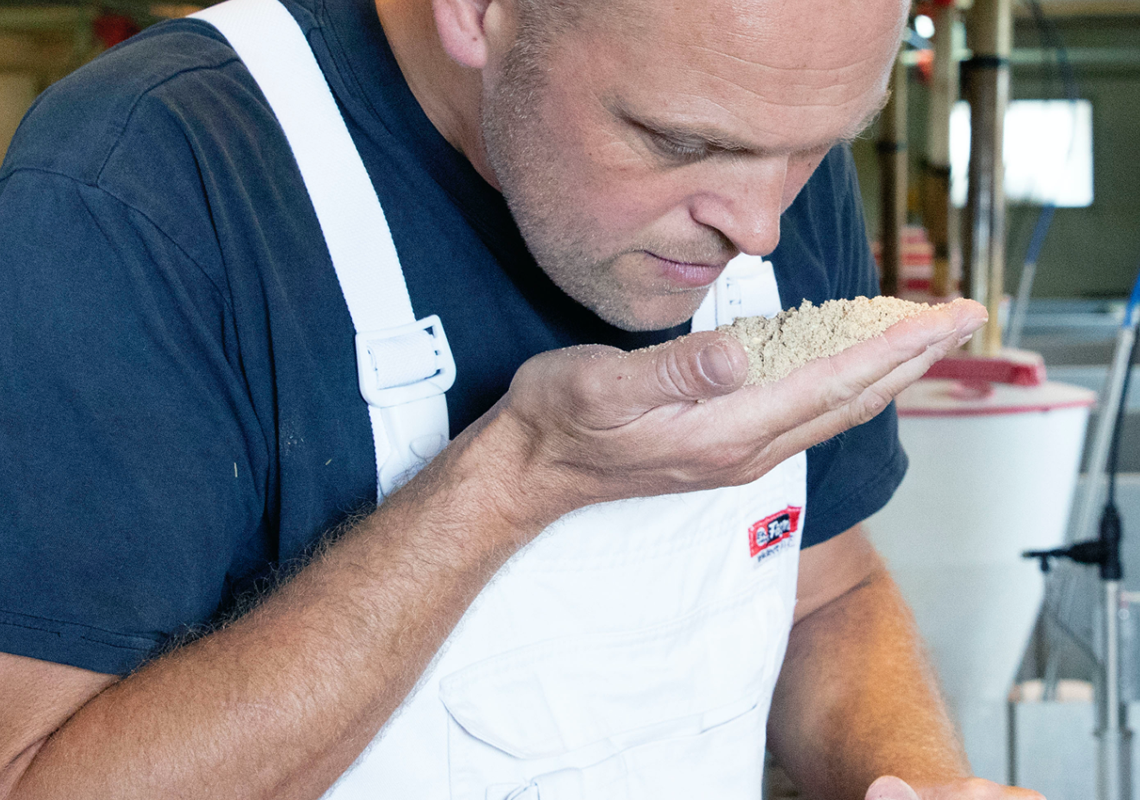 Product benefits
Feed is the critical factor in animal production, accounting for up to 70% of total costs. Using HAMLET PROTEIN specialty proteins in young animal feed, you can optimize feed efficiency – and maximize your return on investment.

The key is their easy absorption by immature guts. Although added to feed for only a limited period in early life, our proteins have a strong carry-over effect on animal growth and performance. Feeding trials have documented a higher slaughter weight compared to animals fed standard soybean meal.
Read more