Efficient broiler production without antibiotic growth promoters
Research has confirmed that HP AviStart from HAMLET PROTEIN is similarly effective in optimizing the weight and feed conversion rate of broilers as a wellknown antibiotic growth promoter. Although the highly digestible vegetable protein was only added to broiler feed at a 5% inclusion rate for the first 14 days, the positive effect was still apparent at the end of the growth cycle.
The research study carried out at Southern Poultry Research in Georgia, USA has compared the effect of HP AviStart with bacitracin methylene disalicylate (BMD), a commonly used and well-researched antibiotic growth promoter (AGP).
AGPs have long been used in broiler feeds due to their ability to improve body weight gain and lower feed conversion ratios, leading to more efficient production. Changing consumer preferences, however, have created a need to eliminate antibiotics from many diets, resulting in loss of performance.
HAMLET PROTEIN developed HP AviStart to maintain broiler performance in AGP-free diets. Key considerations when formulating AGP-free diets are the digestibility of the feed and elimination of dietary anti-nutritional factors. Due to the immature digestive tract of broilers at hatching, there is a risk that many nutrients will pass through the digestive tract without
being absorbed. This not only decreases performance and efficiency but can also cause poor gut health due to harmful bacteria that feed on these undigested nutrients in the hind gut.
HP AviStart is a highly digestible soy protein produced by the enzymatic co-processing of soybean meal and yeast. This reduces the anti-nutritional factors in soybean meal, resulting in an easily digested protein source that allows broilers to reach their potential for healthy growth.
Facts on the feeding trial
1,800 Cobb 500 broilers
Duration of 42 days with 12 replicates per treatment (50 birds/pen)
Broilers were fed three different diets: control, feed with 5% HP AviStart, and feed with BMD at 50 grams/ton. The diets are listed in Table 1
Starter diets were fed in crumble form (day 0-14). Grower (day 14-35) and finisher (day 35-42) diets were fed in pelleted form.
HP AviStart was included in the starter feed only (day 0-14) while BMD was used throughout the growing cycle (day 0-42)
No anticoccidials or ionophores were used in the feed. All chicks were spray vaccinated with a commercial coccidia vaccine at the recommended level prior to placement

HP AviStart performs as well as BMD
Results show that the inclusion of 5% HP AviStart in the starter feed alone equals the performance of BMD when added at 50 g/ton during the entire growing cycle. This makes HP AviStart an excellent choice for maintaining growth and feed efficiency with AGP-free diets.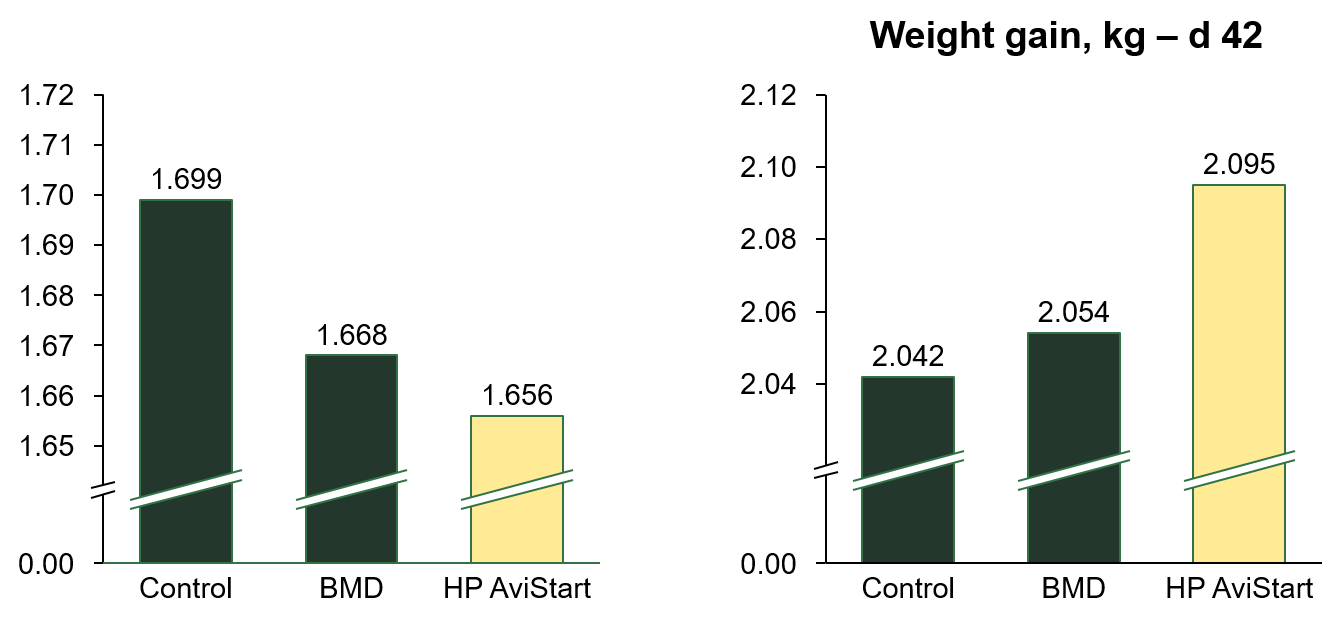 4,3 point improvement in feed conversion rate and 53g increase in body weight at 42 days
In addition to equaling the performance of BMD, a broiler starter feed with 5% HP AviStart resulted in 53g extra body weight gain and reduced FCR by 4,3 points at 42 days of age compared to the control diet.

Poultry Events
We attend events around the world. Meet us at exhibitions and seminars - we always look forward to welcoming you!
We also sponsor conferences with focus on young animal nutrition.
Have a look below where to meet us next.
Sequence contains no elements